SPHINX SDP Compact Alpha THD
| | |
| --- | --- |
| | Click for larger picture |
Extra pictures: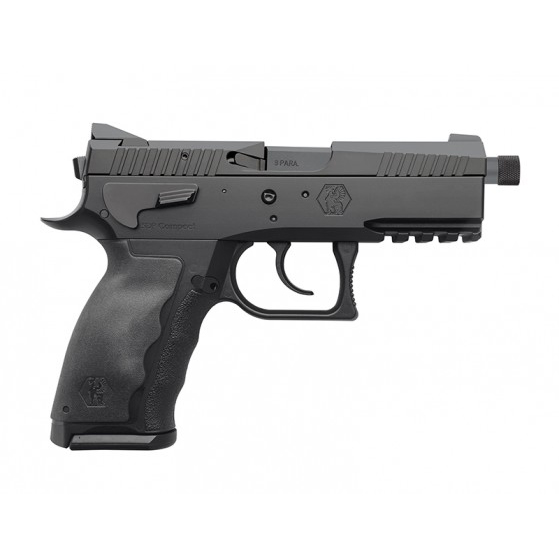 Sphinx guns duty and sport pistols
COMPACT THD
Sphinx SDP Compact Alpha Line threaded barrel - Basic configuration: Steel slide, Aluminum frame black, black polymer grip, incl. 3 grip insert sizes (S,M,L), 2 magazines, cleaning kit, loader, Sphinx hardcase
9x19, DA/SA, decocker, 15 rds, iron sights threaded barrel
9x19, DA/SA, manual safety, 15 rds, iron sights threaded barrel

Matten, Switzerland - Sphinx®, the Swiss reference in pistol manufacturing, introduces the Sphinx® SDP pistol, specifically designed to meet the demands of law enforcement and military operators. Sphinx pistols have long held the reputation for their exacting precision from concept to the firing range. The new Sphinx® SDP has been designed using the same strict tolerances and state-of-the-art CNC machining used for the Sphinx® competition and commercial lines.

The new Sphinx® SDP Compact 9x19 Parabellum is an all-black compact pistol in Double-Action/Single-Action with an ambidextrous decocking lever and magazine catch featuring various safeties including:
• Loaded chamber indicator (visual and tactile)
• Internal firing pin safety
• Drop safety
• Integrated slide position safety
• Hammer safety

The Sphinx® frame is unique in that the upper frame or dust cover is made from aeronautic grade, hard-anodized aluminum with Teflon® inserts to reduce wear. The integrated recoil buffer provides stabilization of the gun, getting it back on target quickly and improving accuracy. The full-length guide rails are not inserts like many other pistols, but machined in, providing additional strength and increasing accuracy levels. The integrated Picatinny rail is made from MIL-STD 1913 aluminum with 4 notches to hold a variety of accessories including lights and lasers.

The lower part of the frame or grip is made from a proprietary polymer that will not break down in either extreme hot or cold environments. The ergonomic, 3-component grip is made from soft and hard material for a comfortable, confident hold. Three interchangeable grip sizes (Small, Medium, and Large) are available.

The Sphinx® slide is fully machined from solid steel and features an advanced pyramid design that decreases weight and profile. The slide is coated with TiAIN to resist corrosion and wear. The Sphinx® SDP features the new exclusive sights from DEFIANCE®. The front sight is a fiber/Tritium day & night green sight working in conjunction with a Tritium 2-dot red rear sight. The DEFIANCE® sight system is instantly combat-ready, requiring no switching on-or-off or any external energy sources. The completely waterproof, completely maintenance-free sights provide fast and accurate targeting under all light and weather conditions.


SPHINX® SDP PISTOL SPECIFICATIONS:

Caliber:       9x19 Parabellum
Finish:        Black, TiAIN coated slide
Mag cap:    15 + 1
Action:     DA/SA with ambidextrous decocking lever or manual safety
Safeties:  Loaded chamber indicator (visual and tactile), Internal firing pin safety, Drop     safety, Integrated slide position safety,     Hammer safety
Grip:                  Interchangeable - 3 sizes (S, M, L)
Overall Length:    7.4 inches/ 188 mm
Height:               5.5 inches/ 140 mm
Width:                1.3 inches/ 33 mm
Barrel Length:     3.7 inches/ 95 mm
Weight:              27.5 ounces/ 780 gr
Trigger pull: DA – 8.16 lb/ 3.7 kg  / SA – 3.30 lb/ 1.5 kg                      
Sights: DEFIANCE Front Day & Night Fiber/Tritium/DEFIANCE Rear Tritium 2-Dot Red


Features:

Advanced pyramidal slide design
Aluminum MIL-STD 1913 Picatinny rail incl. 4 notches
Integrated polymer recoil buffer
Double trigger bar for maximum    precision, strength and safety
Full length guiding rails


Options:  

Adjustable sights, lanyard attachment
LVL Armory, s.r.o.
stretnutie len na základe
predchádzajúceho telefonického
dohovoru
Tel.: +421 905 940 526
Tel.: +421 915 955 444
E-mail:
info@1911.sk